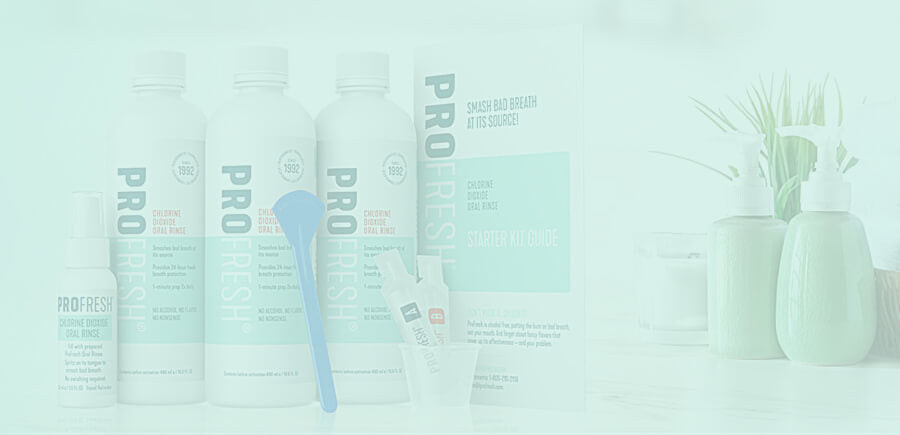 USAGE INSTRUCTIONS
We know how hard it is to live with chronic bad breath. The ProFresh System is easy. It's simple to understand, inexpensive and takes just 1 minute, twice a day. That's it.
USAGE INSTRUCTIONS
1 Minute (2x per day), 3 Steps, 24-Hour Relief
A FRIENDLY REMINDER
Tips on how to get the most out of ProFresh
BEFORE USE
Prepare each bottle of ProFresh Oral Rinse. We suggest you do this now, so it will be ready for use. See usage instructions above for details.
NEW USERS
Add two A and two B tubes to your first bottle. Doubling up on Prep Packs generates an extra-strength rinse that gives you an extra-clean feeling.
ALL USERS
Don't brush your teeth before using ProFresh. Brush right after using ProFresh.
DON`T LET ANYTHING HOLD YOU BACK
Brush and floss with ProFresh, to clean every crevasse of your mouth.
If you are interested in optimum freshness, add the following to your routine:
Swish with a cap-full, or 1/4oz, of ProFresh Oral Rinse for 30 seconds.
With the rinse still in your mouth, brush your teeth, tongue, and gum tissue. Then spit out
Floss throughout your mouth. Make sure to carefully drag the floss up the front and back sides of your teeth.
Scrape the surface of your tongue using the ProFresh Tongue Cleaner.
Swish and rinse with a second cap-full, or 1/4oz of ProFresh Oral Rinse, for 60 seconds.
Scrape your tongue again if the tongue coating is still visible.
---
Clean your retainer, dentures, or other dental apparatus, with ProFresh.
If you are interested in optimum freshness, add the following to your routine:
Clean removable device daily, by rinsing thoroughly with water.
When you start the ProFresh System, soak the device(s) overnight in ProFresh Oral Rinse.
Then, soak them in ProFresh overnight once every month.